We offer a variety of services to our customers. Please check the list below to see how we can be of further assistance. If you would like more information about any of these services just contact us.
---

GIFT CARDS
We know it's hard to decide color, style, etc., for others. However, we make it easy by offering the availability of gift cards for those that know sometimes the perfect gift is the one the recipient gets to choose. You can safely purchase gift cards right here online using PayPal.   Just click here.
---

FURNITURE DELIVERY
Would you like that special piece of Amish furniture delivered. We have delivery connections across the U.S. and we may be able to assist arranging the delivery services for you. Contact us about available arrangements and costs.
---

On-Staff Interior Decorator
Need help creating beautiful and functional spaces in your home or business? Three Sisters has a certified interior decorator on staff for assisting customers with their home decor needs!
---

EMPLOYEE GIFT PROGRAM
Do you have a group of employees that you would like to give gifts to? If so, talk to us about gift ideas that would suit your group. We can have them wrapped/gift bagged and ready to give!
---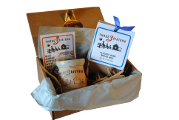 CUSTOM GIFT BASKETS AND BOXES
Coffee Lover, Meats and Cheeses, Sweet Tooth, Pamper Yourself, are all examples of themed gift baskets or boxes we can prepare for your gift recipient. We will work with you to make up the perfect combination for that special person in your life.
---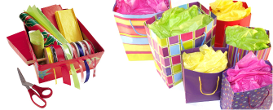 GIFT WRAPPING
We want you to be able to walk out the door with a gift that is ready to give. Just let us know that your purchase is for someone else and we will wrap it up in a package fitting for the occasion.
---

SPECIAL ORDERS
We accept "special orders" whenever possible. We are connected to a wide variety of artists and craftsman and enjoy the pleasure of having many of them in our backyard. If you have a specific wall art, rug, decor or other gift in mind but don't see it in our store, make sure you ask us about availability. Shopping on line? Give us a call and we will see if we can get it for you.