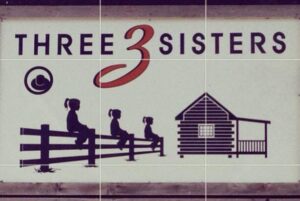 Legend has it that the Indigenous Americans—The Iroquois—would plant three plants together in a mound. Corn to provide support, Beans to provide nutrition (being a legume, beans can fix nitrogen in the soil), and Squash for protection (the cover of the squash shades the ground, keeping it it cool, preserving moisture and shading out the competitive weeds). These three plants, when planted together, became known as "The Three Sisters."
When my dad and I formed a farm partnership in the 1990's, we came up with the creative moniker of R&R Imdieke (Robert and Roger). Many of our Amish Furniture Builders used a similar approach; F&N, A&J, J&S, to name a few.
In many businesses, the name you choose is not that important. Just something needed to satisfy necessary legal identity.
However, a business who wants the public to know and identify them, the name you choose can be very important. Your name becomes part of your brand. In a perfect world your name becomes a household word.
For us, words like: Glacial Ridge, Amish, Little Crow, in conjunction with "furniture or furnishings" were considered. None of these names spoke to us.
In 1991, we took a family trip to the Pacific Northwest to visit my uncle and aunt, along with several cousins that lived south of Portland. Either Uncle Wendelin, or Cousin Dale, pointed to a spot in the Cascade Mountains in the eastern distance, and told us that on clear day, you could see three mountain tops that were known as "The Three Sisters."
About ten years later, while attending an agriculture conference in the Central Valley of California, I had a chance to tour the dairy industry around the Tulare region. One of the stops on our tour, was a dairy that was producing Artisan Cheese (on-farm, small-scale production). The name of the cheese production part of the business was, "Three Sisters Artisan Cheeses." It was three sisters, daughters of the farm family, that started and ran the cheese component of the farm.
While contemplating the name for our business, and having been blessed with three lovely daughters, I recalled these two experiences, when traveling the Pacific Northwest and California. The name "Three Sisters," "spoke to us."
We had not yet known of the legend of The Iroquois. A couple of years after opening, a friend stumbled on the story of the Three Sisters of the plant kingdom.
On a frequent basis, we hear from customers who tell us, "they are three sisters." Many times these sisters will get together and make a trip to our store—sometimes asking to have their picture taken in our Big Red Chair.
We love to hear those stories. And whether you are two sisters, five sisters, or as we had in one casoe, nine sisters, or don't have sisters, we appreciate you visiting, "Three Sisters Furnishings!"🥰